Poison Ivy Soap ~ Jewelweed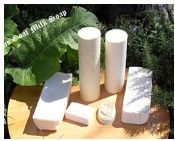 Poison Ivy Soap

A lovely goat milk soap, infused with jewel weed.

Jewelweed is known to be a natural herbal treatment for poison ivy, poison oak, sumac, rashes, etc. Jewelweed is said to work by counter reacting with other plants that cause itching. Wash with this soap as soon as you are exposed to poison ivy, oak or sumac. It is also known to help with itchy insect bites.

Please note, I am not a doctor and am making no medical claims, this is sold as soap to wash with with.

ingredients: natural fats, oils, goat milk infused with jewelweed, jewelweed puree, sodium hydroxide, silk, coconut oil, shea and cocoa butters, castor oil.
These are large 5+oz bars.